Tulip Table Set - 42"
33% OFF
Tulip Table Set - 42"
FREE SHIPPING
Enjoy Free Shipping On All Orders
PRODUCT FINANCING
Buy the Perfect Piece Now and Pay Over Time.
SHOP CONFIDENTLY
30 Day Returns With No Restocking Fees
Additional Information
Orders received today will be delivered within 4-5 weeks due to unprecedented shipment delays from

our suppliers overseas

.
Table Construction: The solid fibreglass top is 1.5"in thick and heavy, giving balance to the unique table base. True to the original design the metal base is a perfect combination of function and form. Both fibreglass top and metal base is coated with a scratch and chip-resistant finish. A velvet floor protection pad is attached to the bottom of the base to prevent the floor from scratching.
Chair Construction:The chair features a abs plastic seat with a white swivel base and an upholstered vinyl seat cushion. This timeless chair can be a comfortable dining chair or used as a makeup chair at a vanity unit, or as quirky office or waiting area furniture.
Table Dimensions: 43"L x 43"W x 29.5"H in
Table Top Thickness: 1"H in
Table Weight: 120 lb

Seating Capacity: 5-6 People
Chair Dimensions: 19.5"W x 17"D x 32"H in

Chair Seat Height: 17.5"H in
Chair Weight: 15 lb
Assembly: Light assembly required

Tools Included: Yes
WHAT YOU NEED TO KNOW?
Fibreglass tables are stronger, better performing, and more durable than wood, MDF laminated tops. Super high gloss top is very resistant to stains and easy to clean. These tables have subtle yet clever details that really add to their quality and value.
Available in multiple sizes:
CHIP & SCRATCH RESISTANT FINISH
Glossy white solid fiberglass top is coated with transparent polyester sealant to prevent chipping & scratching.
PERFECT COMBINATION OF FUNCTION AND FORM
A velvet floor protection pad is attached to the bottom of the base to prevent the floor from scratching.
Early Reviewer Program
The Early Reviewer Program encourages customers who have already purchased a product to share their authentic experience about that product. Customer's depend on reviews to learn more about products, and this program helps to acquire early reviews on products that have few or no reviews, helping other customer's make smarter buying decisions. Customers who have purchased a product participating in the Early Reviewer Program may be asked to write a review and those customers who submit a review within the offer period will receive a small reward (e.g. a $5-$10 refund) for helping future shoppers.
Customer Reviews
Customer Reviews
Write a Review
Ask a Question
10/19/2021
Yitzchok W.

United States
I recommend this product
Beautiful!
Thank you, we are enjoying this very much!
10/08/2021
Ellen B.

United States
I recommend this product
Dining table and chairs
Love love our set! Cam e in perfect condition! Extremely happy
09/20/2021
Elyse D.

United States
I recommend this product
Great quality table
This is a great quality table. Only thing that was disappointing was how long it took to arrive. When purchasing, it said to expect a few weeks delay. This ended up being delayed a few months, likely due to covid/international shipping delays.
09/16/2021
Patricia B.

United States
I recommend this product
Thrilled!
It took a while to get here, but I couldn't be happier. I love it!!!
09/10/2021
Shari K.

United States
I recommend this product
Incredibly beautiful!
I have wanted to have this style of table for many years. The table is beautiful and durable. It works very well in the space that I put it in and it looks so very special.
08/28/2021
AJ M.

United States
08/18/2021
Karla

United States
08/11/2021
Joanne T.

United States
tulip table
Love both the table and chairs! there fresh and help lighten up a basement apartment. Great find!
08/06/2021
kathryn s.

United States
Table
So glad we found this table. It's excellent quality.
08/06/2021
Leslie V.

United States
07/18/2021
Barbara U.

United States
I recommend this product
Perfect table for our Lanai
Although it took a long time to receive our table due to Covid Supply Lines disruption we are so happy to have waited. It is a beautiful table, extremely well crafted and very durable. We opted for the fiberglass model due to our lanai not being heated or air conditioned. It fits the corner perfectly and can comfortably fit our 4 chairs around with enough space to fit your legs without hitting the stem.
07/17/2021
Jill T.

United States
I recommend this product
Love love love!
The table is perfect! It arrived well packaged and in perfect condition. It looks amazing in my foyer.
07/06/2021
Dawn O.

United States
I recommend this product
Affordable and cute.
Full disclosure: my grandmother gave my mom her original Saarinen set so the bar was set high from the start. Please keep that in mind when reading this review. I purchased the 42" white set with white cushions. I had hoped I could recover the cushions with a period-appropriate color (the selection of red, white or gray is very limiting) but they appear to be permanently attached to the chair base. The white vinyl is attractive however and also seems easy to clean so that's a big plus. The bases all feel nice and heavy duty so I'm really pleased with that aspect of the set. The chair backs are ABS (Acrylonitrile Butadiene Styrene) plastic and wiped clean very easily. The 42" set is big enough to comfortably seat 4 people without being cramped. (My previous table was 36" which is fine for 2 or even 3 people but a bit too cramped for 4.) Overall this is a really cute, affordable set that would look nice in a small apartment or house.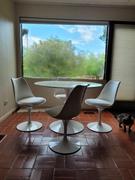 06/28/2021
Cleo M.

United States
I recommend this product
Well worth the wait.
Had to wait for delivery because of shipping delays, but when I received the table and chairs, I was very satisfied by their appearance and quality. Plus, the price I paid made it well worth the wait.
05/26/2021
Stefani B.

United States